Lefua costata
Summary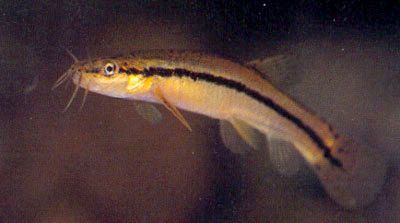 Scientific name: Lefua costata (Kessler, 1876)
Common name: Rice Loach, Eightbarbel Loach
Synonyms: Diplophysa costata, Lefua costata costata
Distribution: Russia, Korea, China, Mongolia, Siberia, Japan
Sexual Dimorphism: None known
Maximum size: 3.5 Inches (9cm)
Similar to: Some Nemacheilus and Schistura species
Care: This loach prefers slow-moving streams or irrigation ditches. Often can be found in rice fields. It lives in shallow places with a heavy cover of vegetation. The aquarium should simulate this environment with a substrate of fine sand and numerous pebbles/rocks to allow digging within this species.
Feeding: Insect larvae, crustaceans and detritus. Frozen Bloodworm's, Brine shrimp and selective bottom-dwelling pellets also are accepted.
Water parameters: pH: 6.0-7.5 Hardness: Soft-medium Max dh: 12
Temperature: 64ºF to 72 ºF (18-22°C)
Breeding: None reported in aquarium
Notes
In their natural habitat, breeding takes place from April to June and the eggs are attached to plants.
Photo Gallery
| | |
| --- | --- |
| Click to view all images of this species! | |