Barbucca diabolica
Summary
Scientific name: Barbucca diabolica (Roberts, 1989)
Common name: None
Synonyms: None
Distribution: Malay peninsula (Johore) and western Borneo (Kapuas)

Sexual Dimorphism: Not known

Maximum size: 1 inch (2.5 cm)
Similar to: None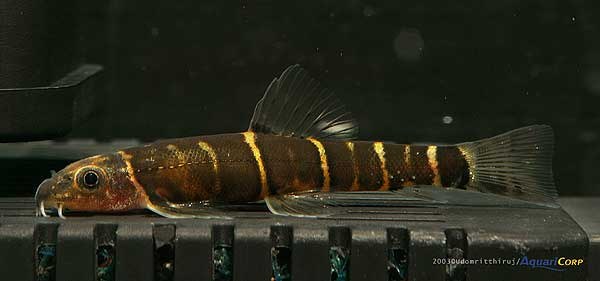 Care: Lives in small, forested streams and backwaters. The aquarium should aim to match these conditions with good filtration and some flow. Subdued lighting.
Feeding: Feeds on small invertebrates, algae and detritus in nature. Should eat most proprietary aquarium foods, supplemented by live and frozen foods.
Water parameters: pH: 6.5 - 7.0 Hardness: Medium Max dh: 12
Temperature: 75- 82.4ºF (24-28 °C)
Breeding: Not bred in aquaria
Notes:
Barbucca was erected as a monotypic genus by Tyson Roberts in 1989, with Barbucca diabolica as the only species.
Very little information is available on this tiny, beautifully marked loach.
Photo Gallery
| | |
| --- | --- |
| Click to view all images of this species! | |